As organizations transition in today's disrupted retail environment it's more important than ever to be able to effectively communicate and establish meaningful connections with your internal audience - all the way up to the C-Suite. Because what makes a great brand great is its ability to deliver on the experience at every channel, at all times. And that requires a fully engaged internal team.
Another challenge faced by retail organizations, today, is that some departments (i.e. Commerce vs. Bricks & Mortar) are inadvertently positioned as competitors to each other - aggressively competing for the same customer. When this happens, companies may find themselves operating more like a dysfunctional family rather than the well-oiled machine they once were.
We create more internal engagement for the brand - by both individuals and departments - through a series of collaborative, interactive workshops that incorporate brand-specific strategies and recommendations. The process includes training how to develop AND tell the brand's story - through in-person experiences and online engagement.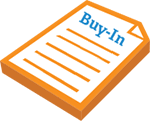 And this is how we help to transform established retailers into modern brands.