Ingledew's was the place for fashionable shoes in the late 80's, but as the market changed around them; they didn't adjust, and lost focus. Research indicated that Ingledew's was where one's mother or grandmother shopped. And even though they carry some of the most stylish shoes in the city, they are often not considered, or given credit for it. Unlike most retailers, Ingledew's has always carried an extensive selection of sizes and widths—to ensure a more comfortable fit; it's one of their key points-of-difference. However, the public is generally unaware of the benefits or need for having a choice of widths to select from.
Our strategy positioned Ingledew's as the retailer that provides "Stylish Comfort"—because they not only carry fashionable brands, they also ensure the proper fit (to ensure comfort). To establish credibility as a fashionable retailer, we developed the 'It Never Hurts To Look Good' campaign. We then evolved our strategy to incorporate more of the 'fit' story by developing the 'Art To Finding The Perfect Fit' campaign. It helped differentiate Ingledew's based on the service and expertise that the staff provides rather than solely on the (non-exclusive) fashionable shoes they carry.
While Ingledew's generally keeps sales results close, anecdotal evidence from management and staff in stores suggests 'new' shoppers have started to visit… and that sales had been progressing well. In fact, the President had personally confirmed that marketing efforts in 2012 helped yield significantly higher sales compared to the previous year—despite competitors being in decline. Website traffic, from Q4 of that year, was also up (by 138%) compared to the previous year.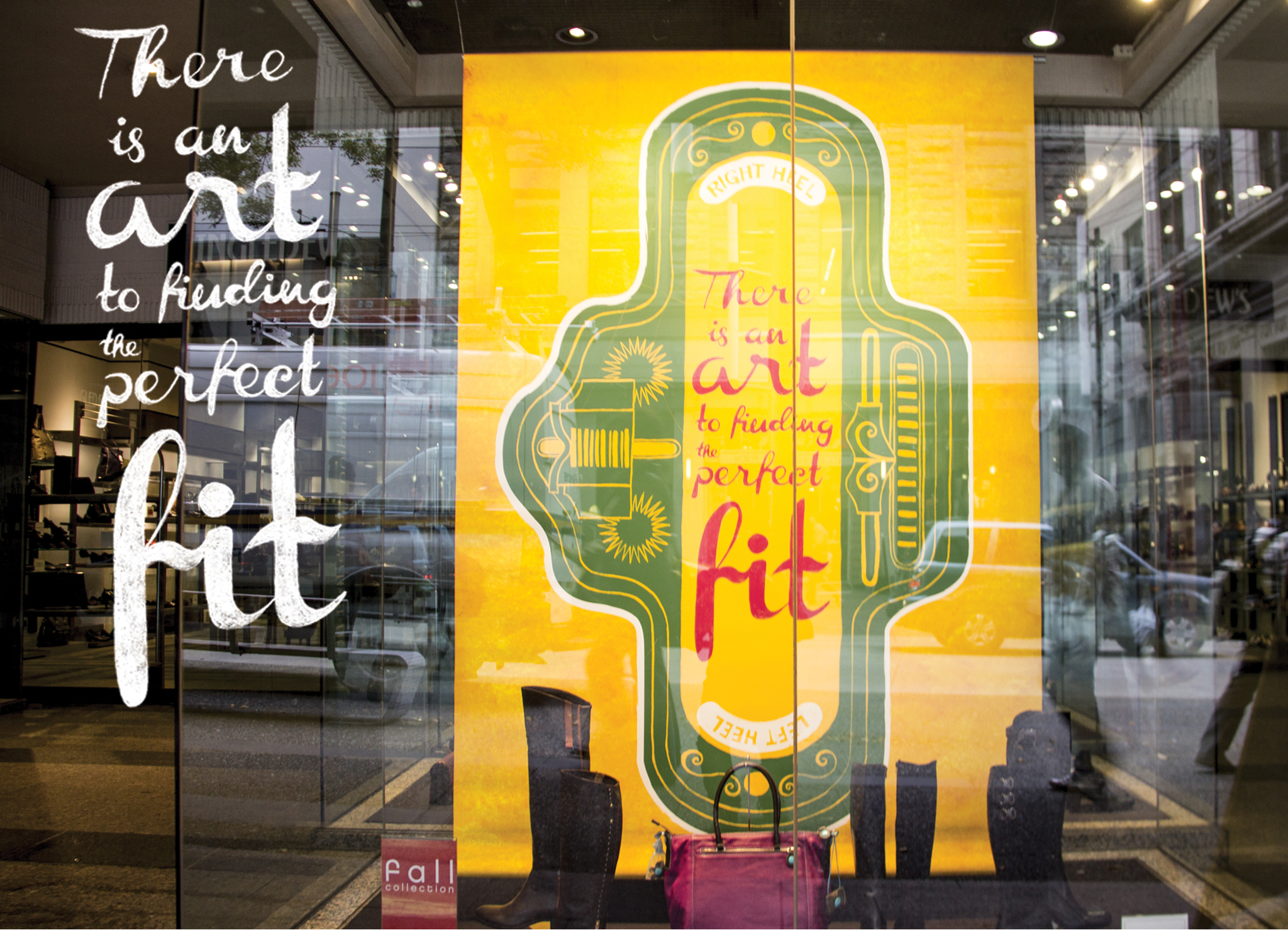 Declaring Their Promise
After conducting a store audit, it was determined that most of the associates were not following through on the brand promise to measure both feet upon entering the store. So, as a declaration of the brand's promise, we installed window banners promoting the "There is an art to finding the perfect fit" position. To launch this campaign, we featured an original, hand-painted version of the iconic Brannock Device—the tool that Ingledew's uses to determine the length & width of one's feet. These banners also set the tone for what to expect—since the first thing the staff does, when a customer is interested in trying on a shoe, is measure your feet.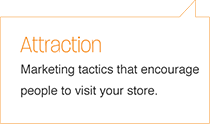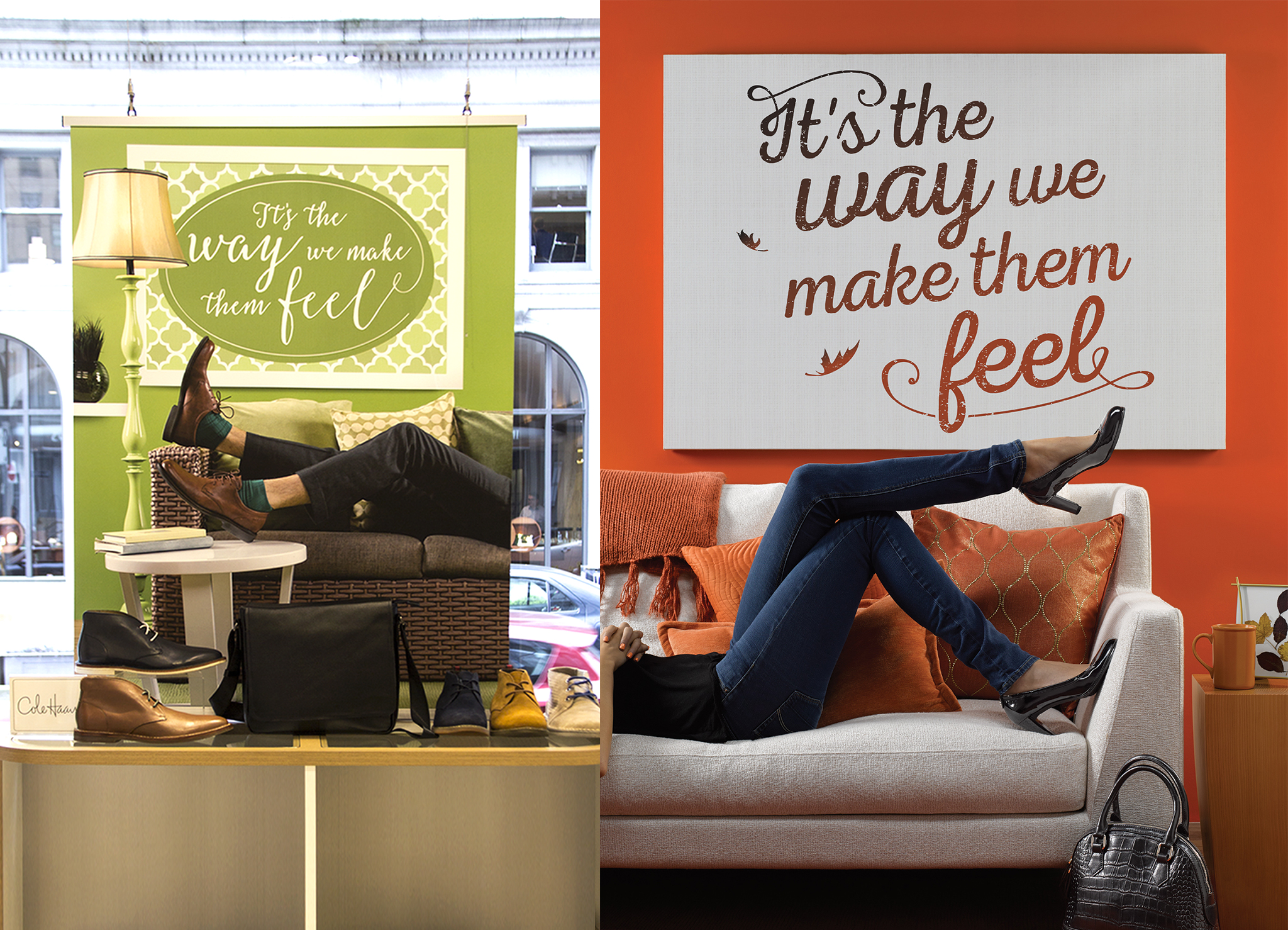 Campaign Development
To highlight their point of difference, (that one should never have to sacrifice comfort for style), we developed the "It's The Way We Make Them Feel" campaign, showcasing that style and comfort CAN actually go hand in hand. This new campaign was built onto the 'Stylish Comfort' brand position we developed, and rotated seasonally across all mediums throughout the year.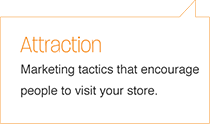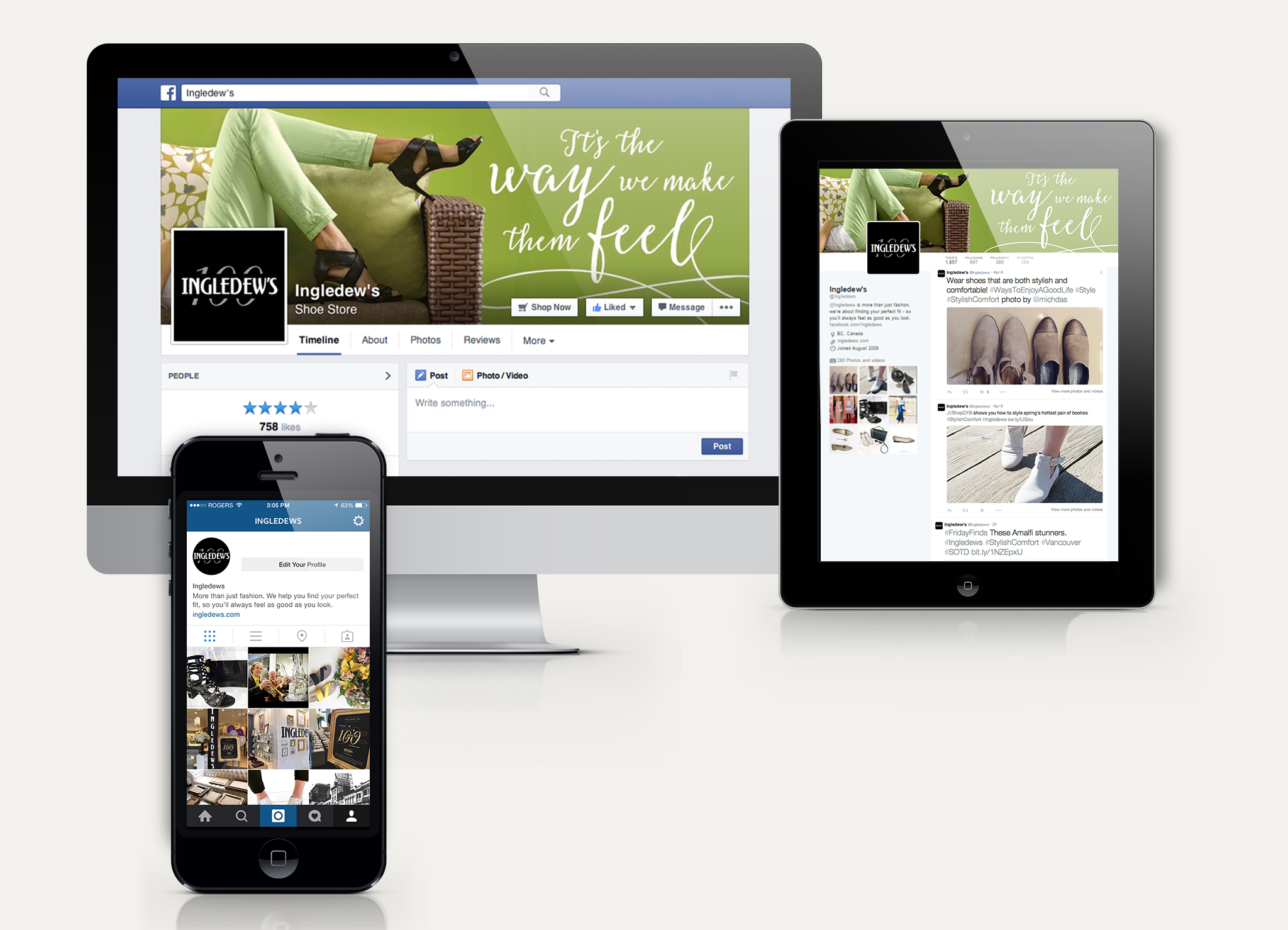 Social Media Strategy
In order to own the hashtag #StylishComfort, we created a social media strategy for Facebook, Twitter, Pinterest & Instagram. The goal was to increase awareness for the brand—not just in terms of the styles they carry, but by highlighting what makes Ingledew's different: their commitment to helping customers find their perfect fit by carrying the largest array of sizes (including widths) in the city. By curating engaging content, and running relevant and on-brand promotions, we were able to build relationships with consumers and increase followers and engagement across all channels – some by over 100%. In fact, fashion bloggers and media were shown to interact with the brand, using this hashtag.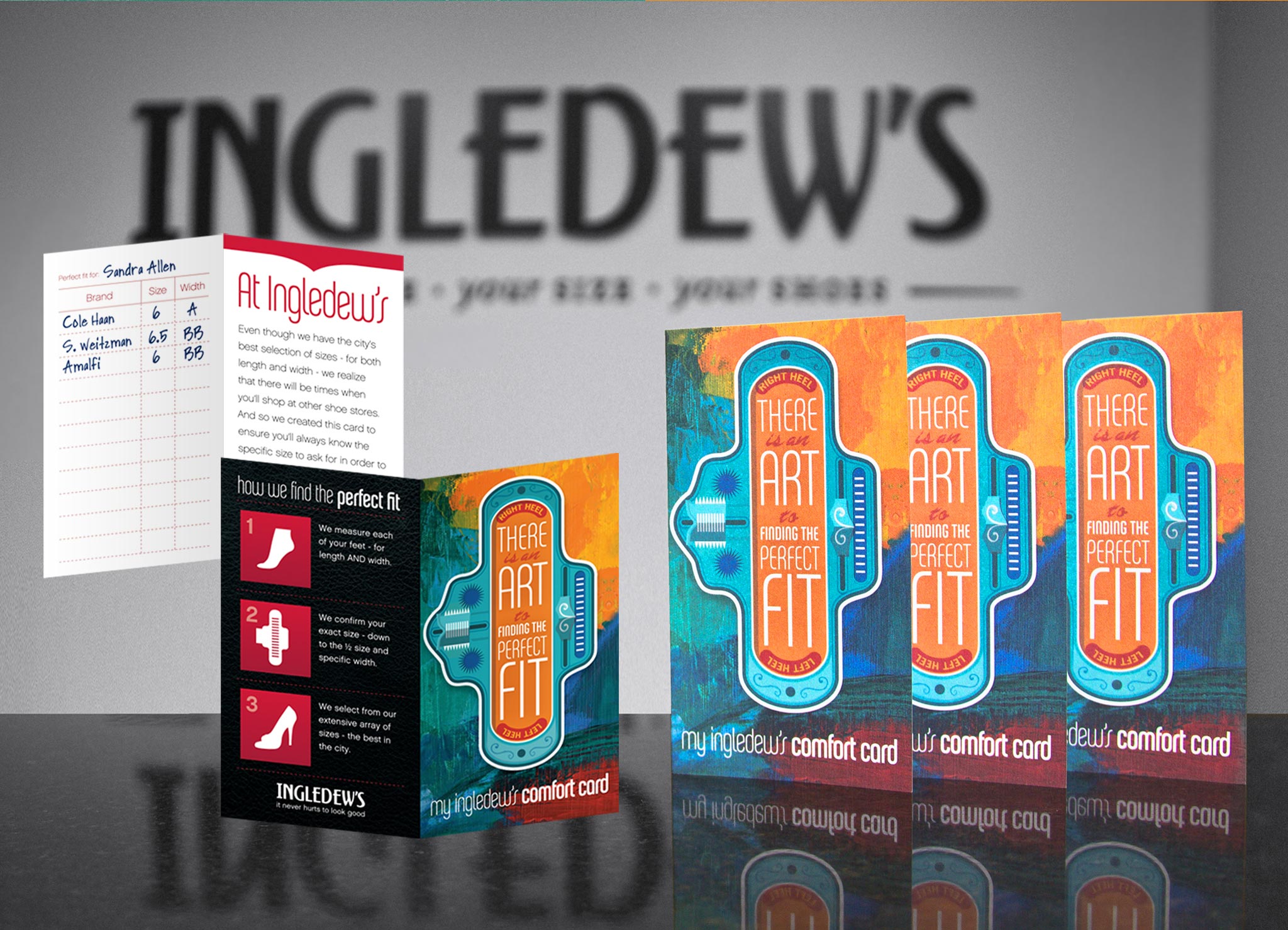 Comfort Card
We created the Comfort Card to reinforce the sales associate's commitment to finding one's perfect fit. After measuring a customer's feet, associates record the shoe sizes (in both length & width) for every shoe that a customer tires on, since sizing differs between brands. The real bonus, for Ingledew's, is that after learning of their true size, shoppers tend to not compromise on their fit & comfort by shopping at stores that don't carry an array of widths.