Simply put, we collaborate with retail organizations (including franchisors) to define who they are… AND articulate their difference to their audience – both internal and external.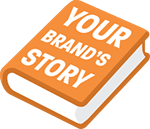 Once a direction for the position is identified and agreed upon, we create ways for telling your story through in-person experiences and online engagement. But it's the way that we tell your story that truly sets us apart… and will, ultimately, do the same for your organization.
It all starts by building a unique personality for your retail brand that aligns with the positioning; we call it the Brand Persona. We then build-in traits of the Persona into every consumer touchpoint – in-store, online and through mobile – to bring it to life. Because, after all, branding is knowing who you are… and acting like it.